Give your dog something to look forward to every day! Dogs participating in our doggie daycare program will receive the optimum amount of play and exercise, balanced with periods of rest. They will also get plenty of fresh air and loving attention from our highly-trained staff. Your dog will be able run and play in our outdoor play yards, weather permitting, and inside in our playroom on those days when outdoor play is not possible.
Whether you're at work in downtown Columbus, away for the day, or just want to give your dog a fun-filled day of play and exercise... consider daycare at Willow Wood!
---
Why Choose Willow Wood Daycare for Your Dog?
Provides physical activity, exercise and stimulation (especially important for young, high-energy dogs).
Builds confidence in many dogs that are timid or fearful.
Can help curb many doggie behavioral problems, such as chewing, digging, and jumping.
Offers a safer, more controlled environment for socialization and play.
Requires pets to pass a social evaluation that helps create a good "fit" with the other pets.
Offers "small dog" and "big dog" playgroups to improve safety and quality of playtime.
Features continual supervision by our highly-trained staff.
---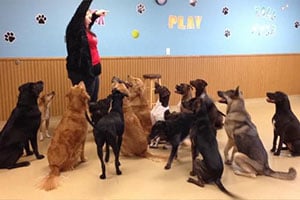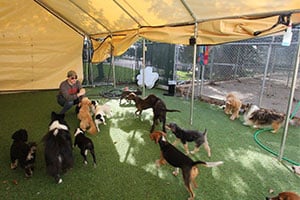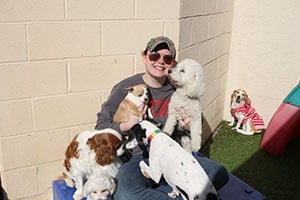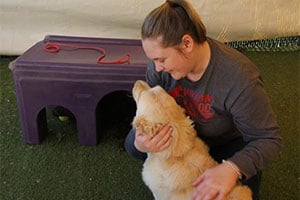 ---
How Do I Get Started?
The first step is to complete the evaluation form below so we can learn about your dog's needs and personality. Once we receive the completed form, we will review and give you a call to set up a time to come in for a daycare evaluation. After the evaluation, we will give you a report of how your dog played and interacted with our staff and new friends.
Please download, print and complete the form. You can email the completed form to us at info@willowwoodpetresort.com or drop it off at our facility.
Doggie Daycare Evaluation Form (PDF)
---
Daycare Rates & Discounts
Discounted packages are available! Daycare rates are as low as $28.00 per day. For all new guests, your dog's first day of daycare with their valuation is $32.00.
---
Daycare Hours
*Please be aware that our Doggie Daycare hours differ from our main hours of operation.
Monday - Friday: 7:00AM - 7:00PM
Saturday: 8:00AM - 4:00PM